With the rise in the subscription model and in-app purchases, people are spending more money than they did a few years back. Apple makes paying for apps and subscribing to services so easy that we might often not recognize it altogether. Therefore, it is quite important that you keep track of your app purchases and subscriptions to avoid burning your pocket.
There are a few ways to view your Apple App Store/ iTunes purchases and we'll be discussing all of these. While an Apple device such as iPhone or Mac is required to view your detailed App Store purchase history, you can still view your recent purchases from any non-Apple device as well.
Also Read
Start using a VPN to access geo-restricted websites and to stay safe on the internet. These are our top free picks.
---
See your detailed App Store and iTunes Purchase History on iOS
Apple has finally added a detailed purchase history report to the settings app, the company revealed in an updated support document earlier. Click the button below to take you to the purchase history page on your Apple device.
If that doesn't work, follow the steps below to see your complete purchases including apps, subscriptions, books, and more.
Open Settings -> [your name] -> iTunes and App Store, if you are on iOS 11 and above.
Open Settings -> iTunes and App Store, if you are on iOS 10 and below.
Now tap on the Apple ID link at the top and now tap View Apple ID. You might be asked to authenticate.
Scroll to Purchase History and tap it.
If you are using Family sharing, you won't be able to see what other family members bought. To do that you'll have to sign in with their Apple ID.
Apple explained that the listing is ordered by the day you were charged. If you see a "Pending" heading, it means that your bank has not yet processed the payment. To get detailed information on any of the purchases, simply tap on it. There is also an option to resend the bill to the registered email.
---
View iTunes purchase history on Mac/PC
This is the traditional method to view your iTunes purchase history. With the removal of the iTunes app from macOS Catalina, you can still follow the steps below from the Music app.
Open iTunes then click "Account" on the menu bar and select "View My Account".
Type in your Apple ID and password when the dialog box appears.
Scroll down to "Purchase History" section and click "See All".
All iTunes purchases and app store purchase are combined and listed. Click "Done" to close it.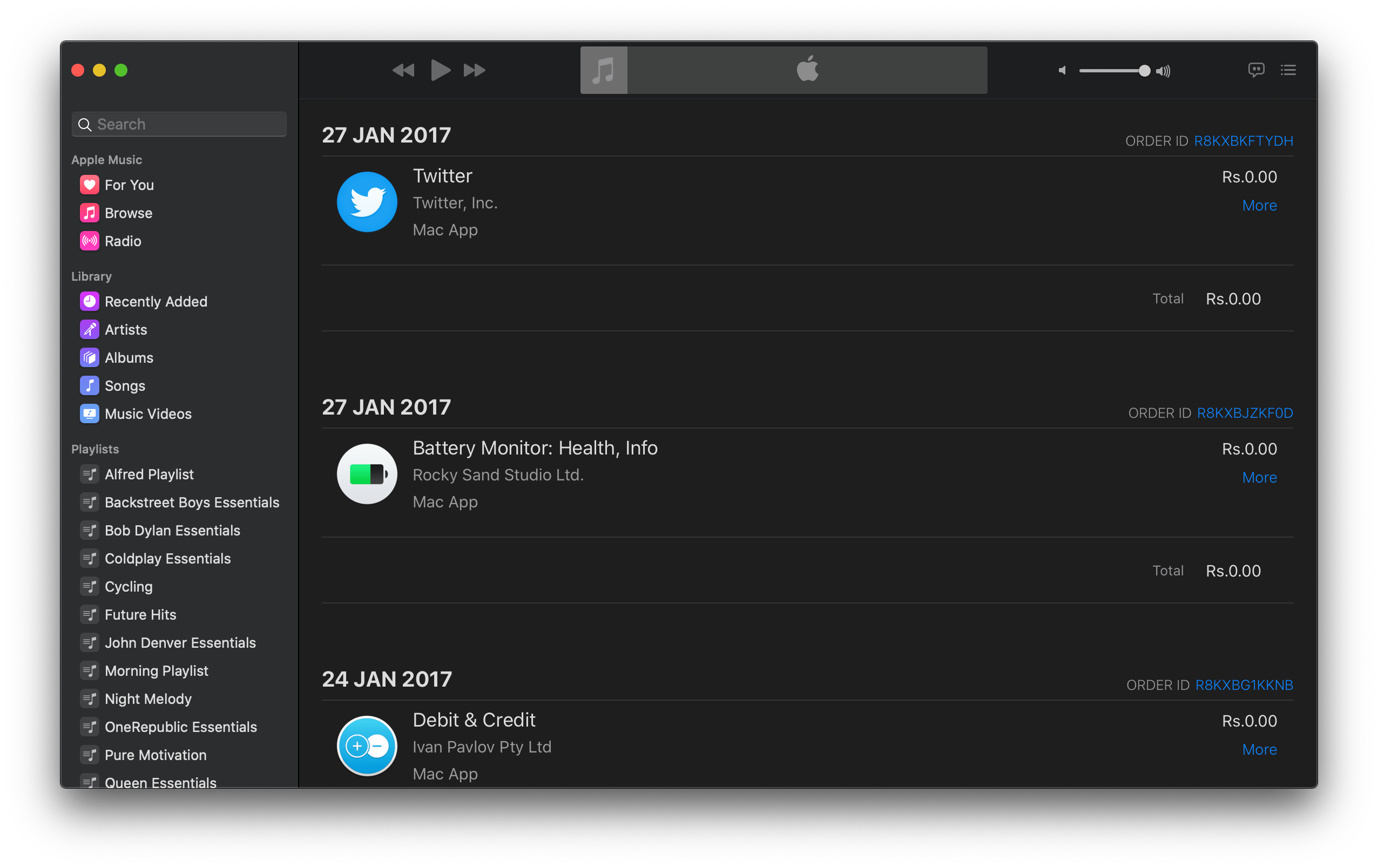 If you would like to resend a receipt, click the Order ID link next to your purchase. This will expand the section and view more details such as billing address, the card used and more. On the bottom left you'll find a Resend option, click that and confirm with your password if prompted.
Also, you can view the Music, Movies and Books purchases from your family members by navigating to Account > Family Purchases from the Music or TV app on Mac. Similarly, to view the Mac App Store purchases of your family members open the Mac App Store, then click on your profile icon at the bottom left and select your family member from the drop-down.
---
View iTunes purchase history without iTunes (iPhone/iPad/iPod/Mac/PC/Android)
With this method, you can see your iTunes and Appstore purchase history from any device. Just go to https://reportaproblem.apple.com, sign in with your Apple ID and you'll see your recent purchases right there. There is an option to report a problem to Apple regarding your App Store purchases and to ask for refunds and more. However, it is limited to your recent purchases only.
If you would like to re-download any purchase receipts you can do that from the invoices tab.
Earlier Apple used to display all your purchases in the report a problem website as you can see in this screenshot.
Video Tutorial
Read Next