Companies or authors secure a Portable Document Format(.pdf) file to safeguard content from being copied or replicated. They implement privacy measures to protect document data from falling into wrong hands and being misused. Security measures are added so that users can't copy text from PDF. It might become necessary at times, to copy text from protected PDF. This post defines all the reasons to make changes in a secure file. It also discusses ways to bypass security and learn ways on how to copy text from secured PDF file.
Reasons to Enable Copy Option in PDF File

Following are some of the main causes to allow editing and copy of protected content in an Adobe document file:
Accessing an old password protected PDF in which password is forgotten.

Can't copy text from PDF from a secure file that disallows copying content.

Remove encryption to save data from Adobe PDF format to MS Word.

Enable copy option in PDF file to make copies and print publisher's data.

Use and reference important points from an ebook for a presentation.

Reset security

settings to copy and use bitmap images scanned as PDF.
More About the Option to Prevent Copy Text from Secured PDF
The security is enabled to protect a PDF document from any unwanted usage of author's data. A secure file displays its security level at the title bar on an Adobe Reader or Adobe Acrobat.

The permissions on a .pdf file can be accessed through Document>>Security>>Show Security Properties. The Document Properties box displays the PDF content copying not allowed settings on the Security tab.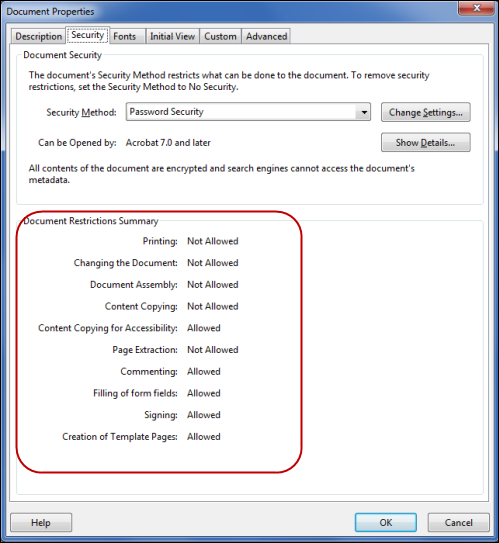 The image above clearly displays restrictions that prevent a user to copy text from a secured PDF. It does not allow printing, editing, changing or extracting the content of the document in any way. This makes users look for workaround solutions online that can't copy text from PDF.
How to Copy Text From Secured PDF File?
Here are some of the ways that content from a secured file can be accessed without data loss:
Solution#1 Take Snapshots and Copy Text from PDF
First, open the secure file in Adobe Reader.

Next, go to

Tools

menu in Adobe Reader 8 or 9 or Edit menu in Adobe Reader X.

Then, go to

Select & Zoom>>Snapshot Tool

in Adobe Reader 8 or 9. Or go to

'Take a Snapshot'

in Adobe Reader X.

Next, hover over the text to copy text from secured PDF.

Then, use the translucent '+' icon and select the text that needs to be

copied.

Drag the mouse to select a text area.

Release the mouse to take a snapshot of the content.

Now, open a Word document file to

copy text

from PDF.

Finally, press the

Ctrl+V

keys to paste the content onto the .doc file.

R

epeat the steps for rest of the content and save the Word file.
Solution#2 Use an Effective PDF Unlocker Tool
There is a direct way on how to enable content copying in PDF. It is to use an efficient, reliable third-party tool like the PDF Unlocker Tool. It is an easy-to-use tool that can work with any Adobe Acrobat 128 or 256-bit encryption. It helps copy/edit/print password-protected PDF contents and decrypt owner level security without Adobe installation. It can remove any restrictions on printing, copying, editing or extracting document data. It recovers data after removing PDF content copying not allowed option.
If you are looking for an all in one PDF editor with create, edit, merge, compress and sign facilities, check out SwiftDoo PDF.
Final Words
The PDF content copying not allowed option is used to secure document data in an Adobe Reader file. It prevents the privacy and copyright of the company's original text so that it cannot be used publicly. It is important to prevent malicious users to copy text from a protected PDF file. This post describes all the necessary ways to access document data in genuine circumstances. It mentions all the necessary steps and an automated tool at the end on how to copy text from a secured PDF file.