Gmail has received a massive redesign ever since its introduction. The new update makes the application a joy to use with the updated user experience. The material design update also brings a lot of features to the table such as confidential email support, add-ons, smart reply, unsubscribe suggestions and more. 
If you would like to enable the new material design for Gmail web app, click the gear icon on the top right and choose "Try the new Gmail".
Now let's jump in to the top 10 new features in material design gmail update.
The most important change is obviously the new and improved design. Google's material design was introduced back in 2014 at Google I/O and everyone have been waiting for so long for Google to update it's GSuite lineup with material design. And it is here, finally. That being said, the new Gmail looks stunning and definitely a lot faster. The whole app is a joy to use. 
Just like Inbox by Google, the new Gmail app brings inline action buttons to quickly manage your emails. You can either delete, archive, snooze or mark as unread from this inline option buttons. The inline options will be visible only when you hover on a thread.
The new confidential email mode allows you to securely send emails right within gmail. With this feature, you can set an expiration for the message and also lock the email with an SMS passcode. Thereby, even if a hacker is able to get to your gmail he won't be able to read it without the passcode on your phone. This feature is currently available only to a limited number of users.
With inline attachment buttons,  you can quickly find and open attachments without having to open the thread. Inline attachment buttons will be visible only if you have selected the default view. If you like to see more of your emails on the inbox page, then make sure to change the default view by going to settings (gear icon on top right) and then select "Display Density".  Select comfortable or compact view depending on your taste.
Even though we live in the modern digital era, many people still fall in to the traps of spam emails. Google's spam filtering is now super accurate in detecting spam messages, thanks to machine learning. But, sometimes we still may need to go through the spam message piles and in such cases Google will display a big bright warning message for dangerous emails.
Add-ons everywhere! The add-ons marketplace is finally coming to Gmail, where 3rd party developers can create productive apps for you to use within Gmail. You can add a new Gmail add-on by click the plus icon at the addons-pane on the right side. Popular apps like Trello, Wrike, Mailtrack, etc. has already created add-ons for Gmail. 
It may not be an exaggeration to say that the Google reminders thing sucked. Until now there was no central hub where I could view all of my reminders that I have made using Google's fleet of applications. But Google aims to solve this with their new Tasks app which is available for both Android and iOS. There is also a Google Task mini application within the new gmail add-ons area. It is also worth noting that the web app of Google Tasks still lacks the new material design. 
Smart reply was first introduced to the Inbox by Google app and it was a well received feature. It eventually came to the Gmail mobile app but only now it is available in the Gmail website.
Nudging? It simply means to draw attention and that's exactly what it is. This feature draws your attention to the emails that you haven't followed up or responded, making sure you don't drop the ball.
Also Read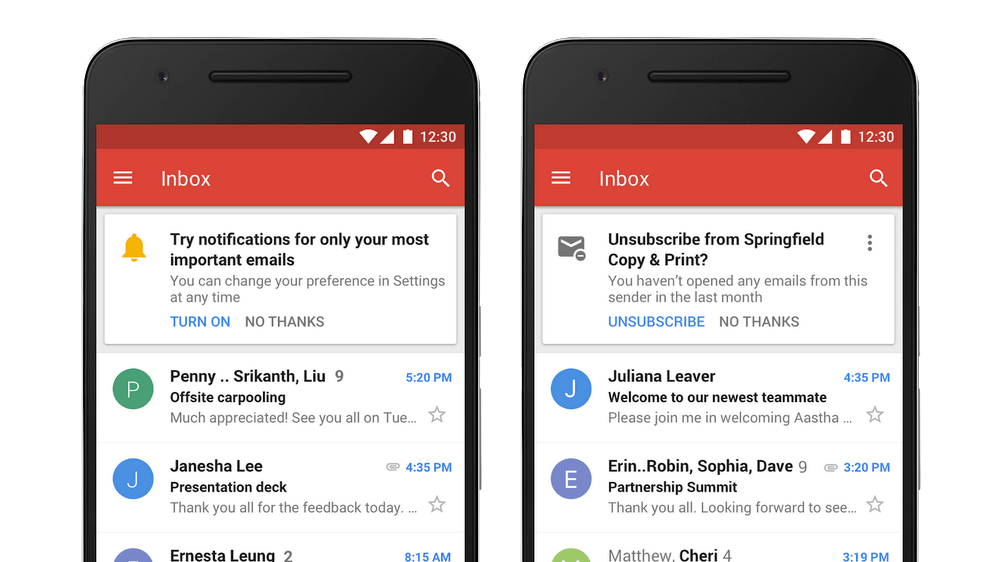 Thanks to the new update, Gmail finally shows smart suggestions to unsubscribe easily from emails that you don't care about, a feature that I have wanted for so long. If you need to quickly unsubscribe emails in bulk, I would suggest using Amit's Gmail Unsubscribe App Script.
What else has changed?
Gmail's multiple email support and preview panel is finally ready for consumers and it can be enabled from the advanced settings page.
Offline Support
High priority notifications
With the latest update, the Gmail web app resembles Google's own Inbox app. I wonder what Google is planning to do with Inbox. What do you think?  Leave your thoughts.
Read Google's official blog post here.