Having multiple PDF files with numerous pages? Want to manage and arrange them properly? Do not worry! Adding bates numbering in PDF files will make your work simple and organized.
Basically, Bates stamping in PDF documents is the smart yet simplified approach to insert unique identification number on every page present in a PDF file. Once you insert page number in PDF files, it becomes easy for the user to manage the document. Moreover, this PDF file numbering is mostly used in ebooks, indexing, legal evidence file, organizing multiple legal case files etc. Sometimes, the user needs to add page numbers to PDF but they are unable to find the perfect solution. Thus, to make the task easier for the user, we are going to introduce different approaches to add bates numbering in PDF file with or without Acrobat.
Considering a Scenario:
"A person is collaborating on a project and wants to assign designated parts of the project to all the colleagues. Now, it is difficult for him to assign the respective page for each colleague. Thus, to keep it simple he created a PDF file with all the details related to the project. Now, the only task left was to add bates stamping in PDF documents. With this, it would be convenient for everyone to work on the respective parts of the project."
Now, Question Arises:
How to Insert or Add Page Numbers to PDF With or Without Acrobat?
Many law firms and legal professionals make use of PDF Bates Numbering for the proper management of their documents. Legal documents contain thousands of pages and indexing those pages is a tedious task. Thus, bates numbering in Adobe PDF documents makes it easy for everyone to retrieve the information from it in an effortless way. One can easily add bates stamp to PDF files by following different approaches, two of them are covered in this blog post.
Approach 1: Apply Bates Numbering in PDF With Acrobat
The user can also add page numbers to PDF file with Adobe Acrobat DC. This can be performed by using the following steps.
1. First of all, you need to download and install Adobe Acrobat  Pro DC on your system and launch it
2. Now, navigate to Tools and then select Edit PDF
3. After that, choose More > Bates Numbering > Add

4. In the Bates Numbering dialog box, click on Add Files and choose Add Files/Add Folders/Add Open Files. Next, you have to select the files or folder
5. Now, to change the order in which Bates numbers are assigned, you need to select a file and then drag it or click Move Up or Move Down
6. You can also click a column name to store the list. Click again to sort in reverse order
7. If you want to specify a target folder for output files and file-name preferences then click on Output Options. Here, you have to specify the options as needed and then click on the OK button
8. In the Add Header and Footer dialog box, click to place the insertion point in the appropriate box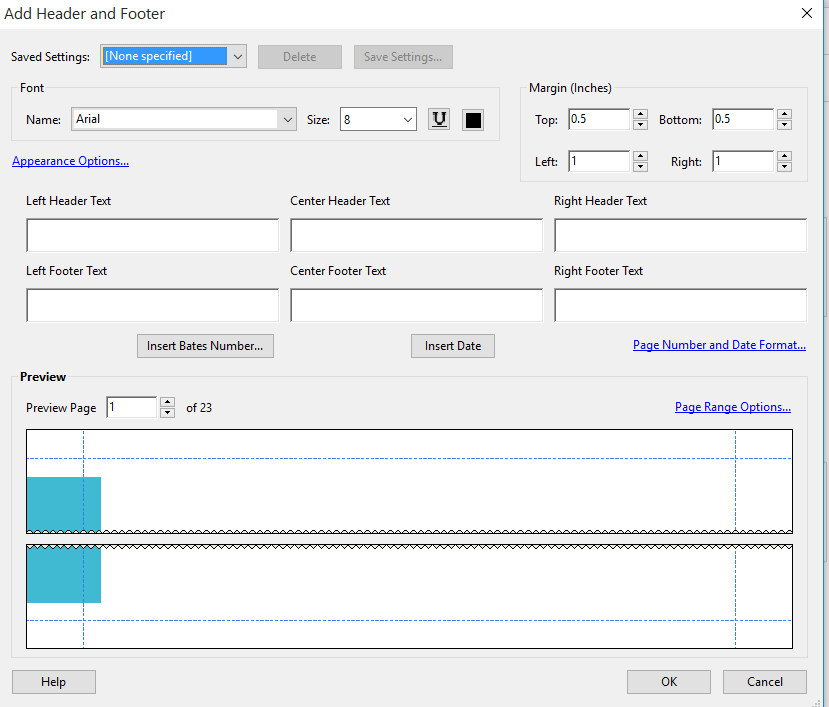 9. Now, click on Insert Bates Number and enter Number of Digits, Start Number, Prefix, Suffix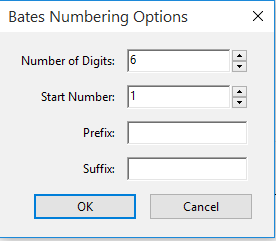 10. Finally, click on the OK button.
Note: With the help of Adobe Acrobat Pro DC users can insert page numbers in PDF files. But, it is necessary to have its full version, with is quite expensive. Though Acrobat DC provides multiple functionalities but using it just to perform a single task like bates numbering is not a good approach. Therefore, to overcome such situations one should go for an automated solution which is clearly described in the next section.
Approach 2: Bates Stamping in PDF Without Acrobat
The user can make use of an automated approach i.e. SysTools PDF Page Numberer to batch insert page number in PDF files. Various advanced and beneficial features are integrated into the software, which makes it an efficient and intelligent utility. The user can easily remove encryption from PDF and add bates numbering in PDF documents using the tool. Along with this the software also provides various formatting options for the Bates number.
Some Advantages of the Software:
1. Generate Bates Numberer
With PDF Bates Numberer utility, the user can easily add page numbers to PDF file. Also, the user can easily add Bates numbers to the required and selected PDF file. Moreover, it is used in various areas such as legal departments, copy services, attorneys and paralegals.
2. Generate Bates Number for File Series
If a user is having a combination of PDF file pages and file series then also he/she can easily insert Bates numbers into it. The tool allows the user to add bates number to all the pages and files contained in the selected folder.
3. Add File(s)/Add Folder Feature
With Add File(s) option, one can easily insert Bates numbering on a single PDF file or multiple PDF files. On the other hand, Add Folder option permits the user to add the complete folder containing multiple PDF files into the software interface and batch insert page number in PDF.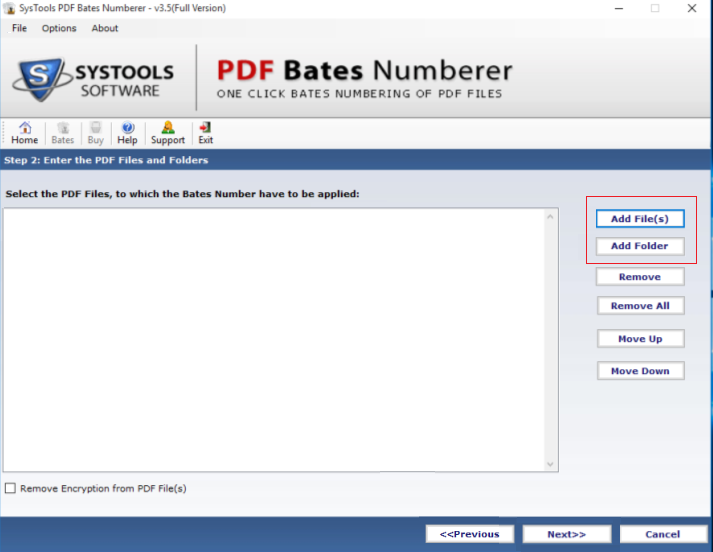 4. Remove Encryption from PDF File(s)
The software is also capable to eliminate encryption associated with the PDF file with the help of Remove Encryption feature provided by software. First, the tool removes encryption from the PDF file and then adds Bates numbering in PDF file.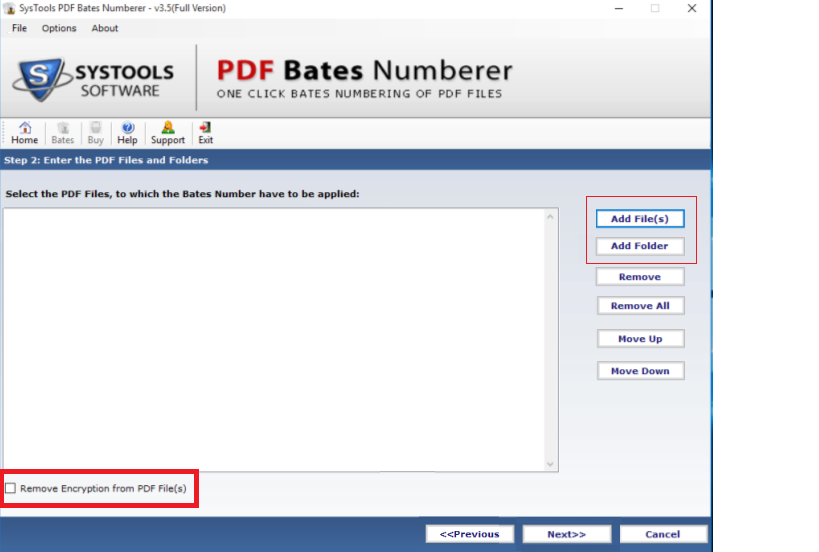 5. Bates Number Format
Users can also manage the Bates number formatting with the help of the utility. The software allows the user to edit series of pages with prefix, suffix, the number of digits, start number, increment by.
6. Insert Additional Text
The user can also insert additional text while doing bates stamping in PDF files. One can also set the position of the additional text.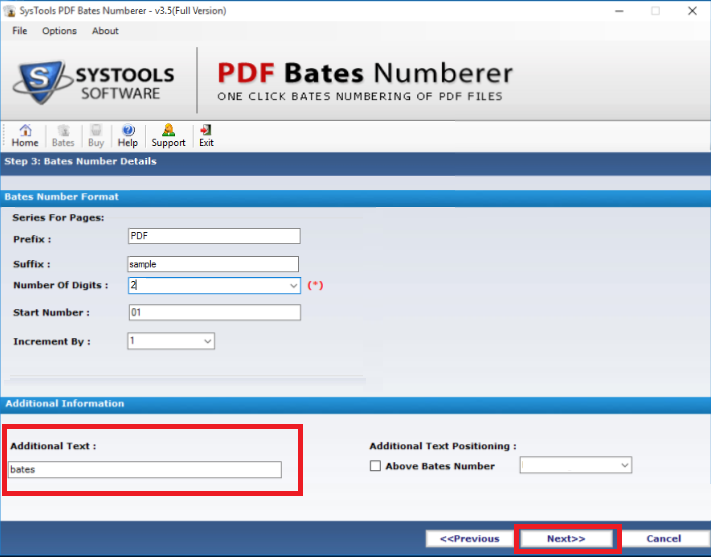 7. Bates Number Positioning
The utility allows the user to set the bates number position according to his/her requirements. The user can also select options such as Maintain Same Number Per File, Stamp Current Date at Top Right, Continue Series for all PDF(s) as per the choice.
8. Font and Color
With this software, users can also change the font and color of the page number. The user can apply any color and font while adding the Bates numbers to the PDF file.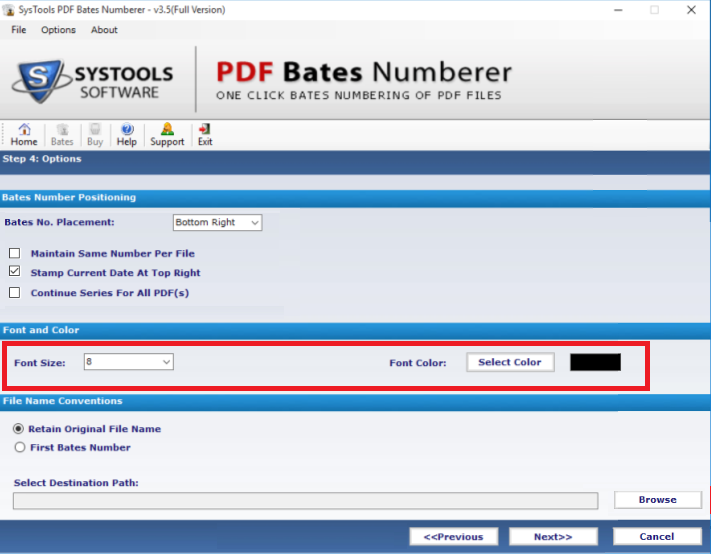 9. Generate & Save PDF Files
One can start the process of bates numbering in PDF files just by clicking Generate button and view the resultant document at the desired location without any hassle.
Summing Up
Bates Numbering in PDF files makes it easy for any user to manage and work with multiple PDFs. However, users face challenges while bates stamping in PDF files as they are not able to find a simple and instant way to do it. Now, its time to relax as in the above section we have introduced different approaches to add page numbers to PDF with or with Acrobat.