One of the essential and preeminent purpose of owning an Android smartphone is to make phone calls and to have an enormous contacts list. The easiest way to remember anyone's contact information is to save it on your Android phone. With the latest Android update, you can even save address, email, picture and other personal information in your contacts. That's why it is fundamental to backup your Android contacts to PC so that if your phone is crashed, damaged or stolen, you will still have a way to get your contacts back.
Previously, in our blog we have discussed how to backup messages and multimedia files but in this article, we will talk about how to backup Android Contacts to PC. Backing up contacts is not similar as copying music and videos to PC because contacts are saved in database file forms in our Android phones that cannot be read normally. But do not fear, we will demonstrate how to backup Android contacts to PC effortless without having any computer talents.
Method #1: Using Contacts Backup & Restore App
There are myriad apps available on Google Play Store but we will be using Contacts Backup & Restore app to backup contacts to your Google account. The app works very comfortably and you can backup Android contacts by following these steps –
Step 1. Download Contacts Backup & Restore app from Google Play Store and install it.
Step 2. Open the app and tap on Backup under "Backup Contacts" tab.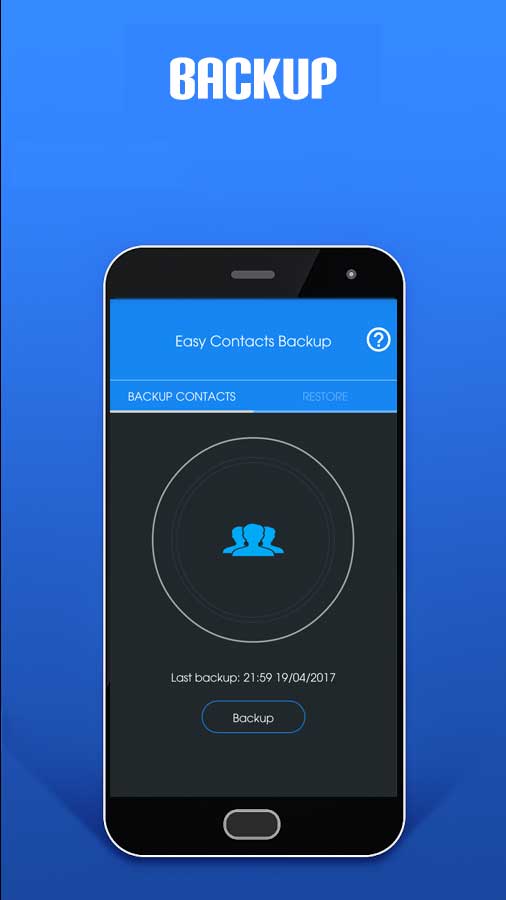 Step 3. Choose the service where you want to backup your contacts. In this case, we will use Gmail to backup our contacts.
Step 4. Now, open your Gmail account from computer and download the contacts in your computer.
Contacts are saved in ".vcf" forms which are easily readable in every Android smartphone.
Cons –
Ad supported app with a potential to install virus.
Requires stable internet connection.
An active Google account is required.
Method #2: Backup Android Contacts to PC with Desktop Utility
If you don't have a Gmail account or if you want to transfer Android contacts directly to your computer then, MobileGo is the perfect and impeccable desktop utility to transfer Android contacts to PC directly.
MobileGo is the ideal and a superb desktop program that helps to backup every single data in your Android smartphone to PC with just 1 click. MobileGo offers 1-click backup feature and at the same time you can erase all the old data after transferring the files to your PC. Moreover, you can manage your entire Android smartphone from PC including adding and removing contacts, updating contacts, send and receive messages or play Android apps or games, then you can perform all these mentioned tasks within this software. In addition, if you wish to restore the Android backups to any other smartphone then it also offers to do that with that with a single click.
In short, every task that you can perform from your Android can be performed with MobileGo as well. So, out of all the features offered by MobileGo, we will be talking about how to backup Android contacts to PC with MobileGo in the below mentioned steps:
Step 1. Install Mobile on your computer by completing the setup wizard. MobileGo is supported in both Mac and Windows computer, so make sure to download the correct version.
Step 2. Connect your Android smartphone to PC with Wi-Fi or USB data cable and establish a connection between your phone and PC. It is recommended to use a USB data cable to avoid any interruption and make sure to enable USB debugging mode on your Android phone.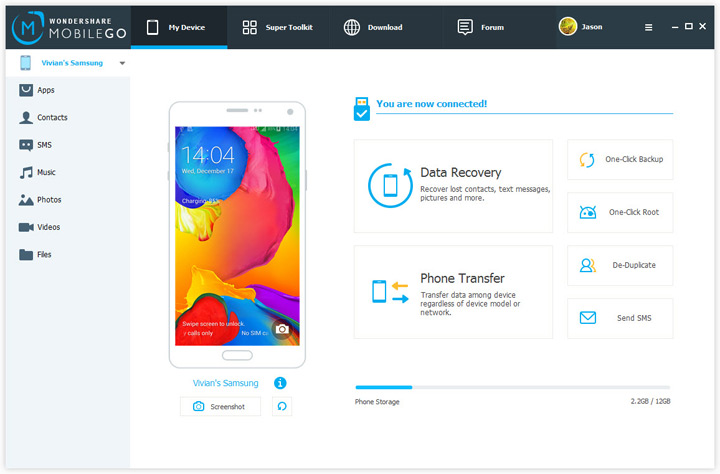 Step 3. Select Contacts from the left sidebar and click on "Save As" icon. Choose the location folder where you want to backup your contacts and hit "OK" to successfully save all the contacts your Android to PC.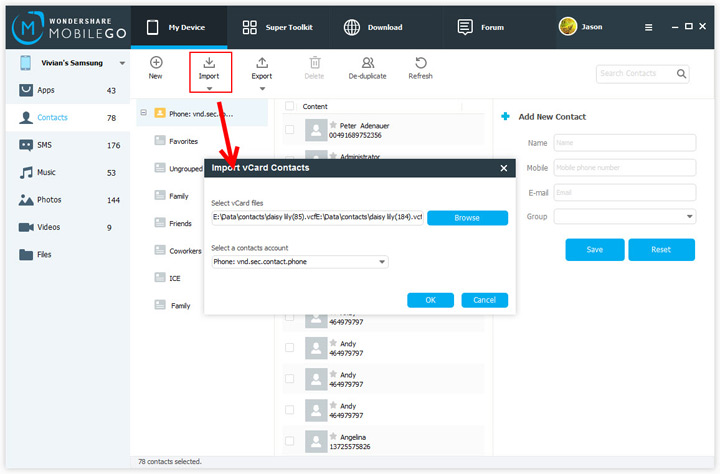 That's all. This is how simple it is to backup contacts to PC with MobileGo.
Conclusion
Never take risk of not backing up contacts or other crucial stuff on your Android smartphone. You never know when your phone is going to die or crash or even it can get stolen. You can live without music, pictures or other multimedia files but without your contacts list, you cannot make phone calls or get connected with any dear one. MobileGo helps to manage every single data on your Android phone including contacts, messages, notes, documents, app, app data, etc. and you can control your phone fully from PC. Hopefully you guys liked this article and will subscribe to our website to get latest further updates.